Our Team.
Pixos Print has assembled the right blend of seasoned experience, technical expertise, esthetic sensibility, bountiful creativity, cheerful efficiency, and unfailing willingness to learn—all of which satisfy every aspect of your project. Click on the images to meet our team members and see what they bring to the table.
JOHN RYAN Owner, jryan@pixosprint.com
ENTER TEXT HERE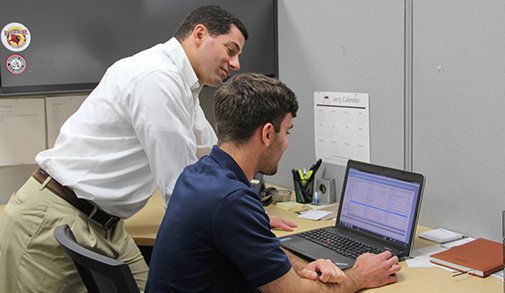 MIKE BITTNER Owner, mbittner@pixosprint.com
Whether it comes to building and maintaining customer relationships or supporting our sales team, Mike prides himself on doing whatever is necessary to help Pixos Print succeed. His ability to understand and meet the needs of our customers routinely drives their ROI. Mike's dedication allows him to effectively serve as the backbone of our sales team, and is essential in maintaining our execution rate of 99% on time and 1% redo. He is a member of the Rochester American Marketing Association as well as the American Society for Training and Development. Mike has a Bachelor of Arts degree from Trinity College.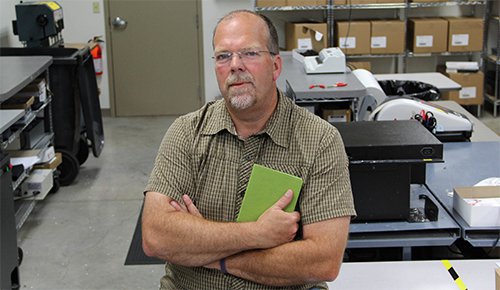 JOHN GREEN Production Manager, jgreen@pixosprint.com
Since joining Pixos Print in March 2013, John has used his wealth of print knowledge to improve efficiency within our digital print department, making sure we push through the diversity of projects we take on every day. John began his printing career more than 29 years ago on a 1-color rotary letterpress, and has expanded his print knowledge continually since then—except for a short time when he pursued another dream: a career as a nurse. John has served as President of the Rochester Club of Printing Craftsman, and has extensive experience from early-level involvement in digital print programs. Outside of our production room, John can be found with his grandkids, or spending many hours in his personal workshop, where he reclaims old furniture and makes it new again.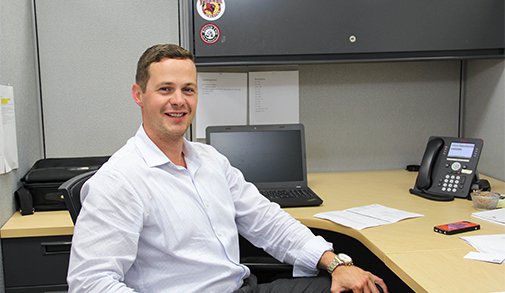 STEVEN PATRICK Sales Representative, spatrick@pixosprint.com
When Steven joined Pixos Print in 2015, he brought with him a wealth of experience in helping clients meet deadlines and building long-term, high-value relationships. Steven most appreciates Pixos focus on giving customers a quality experience with excellent customer service, a philosophy that allows him to do the best possible job for his customers. He's an avid Syracuse University basketball fan, and he earned his Associate's degree in liberal arts from Genesee Community College.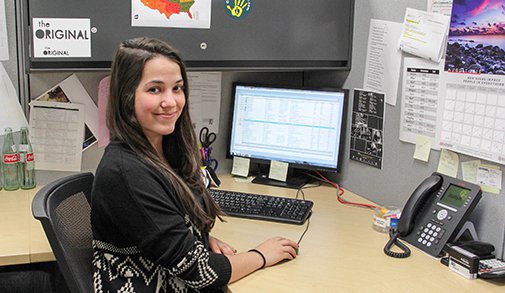 NATALIE DIFIORE Customer Service Representative, ndifiore@pixosprint.com
Natalie joined Pixos Print in 2015, and enjoys being part of the creative process and turning customers' designs into printed pieces. Her previous positions included photographing children and weddings, where she had the opportunity to develop a professional sensibility in the visual arts. Natalie earned her Associate's degree in fine arts from Monroe Community College, and she continues to enjoy drawing and painting. Cooking offers her an additional creative outlet.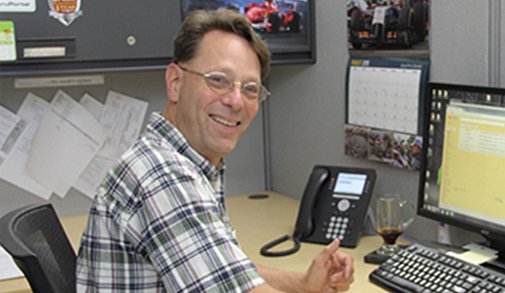 DOUGLAS HOOD Customer Service Representative, dhood@pixosprint.com
Douglas joined the Pixos Print team in 2013 and has continually provided excellent customer service ever since. With more than 30 years of experience in the graphic arts industry—including 20 years of managing color correction at Kodak—Douglas has the know-how to help our customers achieve their goals. Since graduating from RIT with a degree in communication design, Douglas has immersed himself in a wide array of print mediums, and he continues to expand his skill sets in new areas, including his current activity in large format. His extensive background includes working for various design studios, marketing departments, advertising agencies, and commercial printers, focusing on print production in each environment. When he's not putting his print knowledge to use, Douglas can be found spending time at the racetrack, where he is a seasoned driving instructor; you can also find him in his own fields, where he grows hops.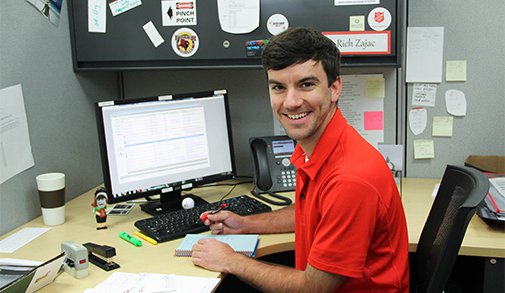 RICH ZAJAC Customer Service Representative, rzajac@pixosprint.com
Rich came to Pixos Print in 2012, and has demonstrated the passion, drive, and intellect to be a valuable member of our team ever since. Initially hired as a quality control specialist, Rich has since progressed into customer service, an area in which he had considerable experience on a retail level. His keen eye for quality and ability to interact with customers continually plays a vital role in achieving customer satisfaction and he is proud of his ability to establish long-term customer relationships. Rich graduated from SUNY Brockport with a Bachelor of Science degree in Communication Studies. After work, he spends as much time as possible riding his bicycle.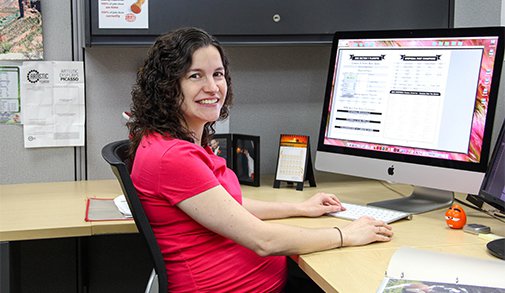 PAMELA MAGOWAN Sr Graphic Artist / Lead Prepress, pmagowan@pixosprint.com
Pamela joining the Pixos Print team in 2009, and she has progressed from a mechanical designer to her current position as Senior Graphic Artist. Her strong organizational skills, her experience as a prepress technician, and her ability to manage complex document builds have been essential to creating efficiency and results within the design department. Pamela also handles all of the marketing campaign projects by using her expert variable data skills and XMPie. Prior to joining the Pixos team, Pamela earned her Bachelor of Science and Master of Science degrees from the Rochester Institute of Technology.
KRISTEN BAUER Prepress / eCommerce Specialist, klambert@pixosprint.com
Kristen began her career with Pixos Print in 2011 as the Quality Control and Fulfillment Specialist. Since then, she has been promoted into the design department and also serves as a backup key op for the digital printers. Kristen's passion for quality and detail has allowed her to become our e-commerce specialist, as well as the gatekeeper for Pixos Anytime, our online customer portal—and she heads up our large format capabilities as well. Her ability to work cooperatively with customer service reps and press operators has been vital in ensuring that the needs of the customer are continually met. Kristen earned her Bachelor of Science degree in Computer Arts from SUNY Oneonta, with a minor in Mass Communication. Last year, she got the ultimate birthday present: She was married on her birthday.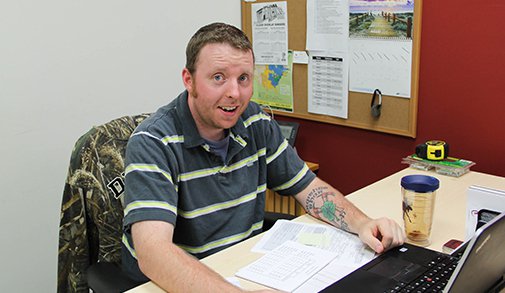 TIM THOMPSON Production Coordinator, tthompson@pixosprint.com
Since joining the Pixos Print team in 2005, Tim has progressed from our Delivery Driver to Senior Offset Pressman/Senior Bindery Specialist. His wealth of mechanical knowledge allows him to maintain the presses and ensure that our bindery equipment is running smoothly. His extreme passion for printing and meeting deadlines has repeatedly been a driving factor in maintaining positive relationships with our customers. Prior to joining Pixos, Tim earned his Associate's Degree in Fire Protection from Monroe Community College. He is currently a volunteer member with the Penfield Fire Company, and a youth advisor for the company's Explorer Post 576. He's also a passionate Red Sox fan.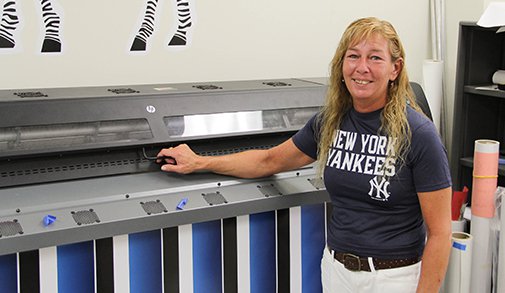 LEANN KIER Digital Print Lead
Leann—we call her "Eyes"—came to us from Xerox, where she was part of one of the first decentralized printing projects—working with the Xerox docublob file format and the Docutech and first iGen printers. This baseline familiarity with digital printing made her an immediately valuable member of our team. During the past decade, Leann has been an instrumental player in the growth and success of Pixos Print. Since becoming our Senior Digital Machine Operator in 2003, Leann has put her wealth of experience to use by maintaining tight deadlines and doing whatever it takes to meet the needs of the customer. Her passion for quality and professional understanding of the digital print universe allow her to be a driving force behind the success of the production process.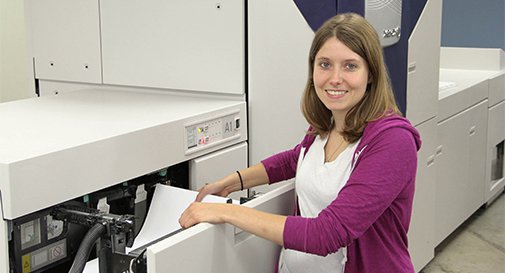 BRITTANY MCCULLOCH Digital Print Specialist
Brittany joined Pixos Print in 2014 and has made an immediate and consistent impact in our digital printing department. Prior to Pixos, Brittany spent three years working in the print industry with an emphasis on book making. Her experience has allowed her to not only help our digital print team—where she runs digital printers independently—but also to lend a helping hand to our large format department. Her willingness to learn and to extend her knowledge base to large format and mailing systems has been a valuable asset. Brittany earned her Bachelor of Fine Arts degree from the Rochester Institute of Technology in Visual Arts with a focus in Print Media. She also just became a homeowner, an indication of her continuing success. Ask her about Philadelphia Phillies baseball.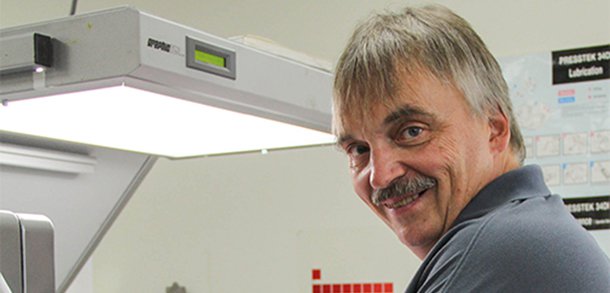 DAVE PRICE Sr Offset Pressman
After spending more than 50 years living in New Jersey, Dave relocated to Rochester and joined Pixos Print in 2013. He brought with him more than 32 years of printing experience beginning back in high school, which has proven vital to our success. Dave's main area of expertise resides in offset printing. His ability to learn and operate the offset presses at Pixos Print has provided not only incredible quality to our printing, but also increased flexibility within our team—and he loves the way that every day is different for him here at Pixos. He has a willingness to learn new skills within our large format department, whether it be finishing a wall graphic or mounting a foam core poster. Dave's keen eye for quality continues to drive success on a daily basis. When he's not working, he's very pleased to be just 90 minutes from Watkins Glen.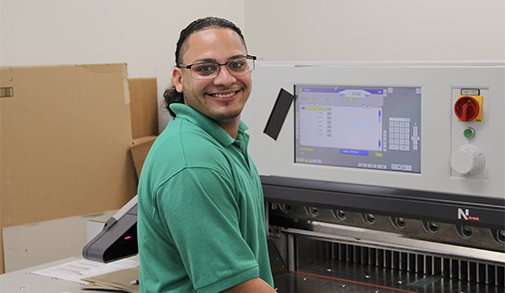 CHRISTIAN TORRES Bindery Specialist
Christian initially joined Pixos Print in 2012 as a part-time bindery team member. After demonstrating his diligent work ethic and ability to learn quickly, he was hired as a full time team member in January 2013. Christian's desire and passion to learn all he can about the print industry have made him an asset to our production team. He has also recently started training on our offset presses, and hopes to one day gain the knowledge and skillset needed to run the presses on his own. Christian tells us that since he joined Pixos Print, his entire life has improved—even outside of work. We are delighted to have him as part of our team.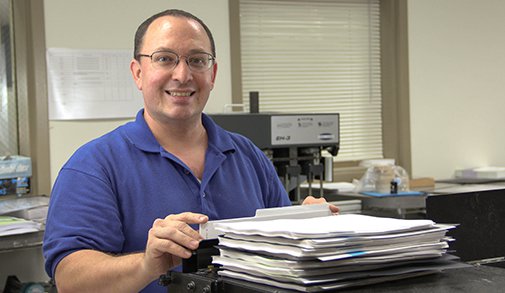 BRANDON DAVIS Bindery Specialist
Brandon joined Pixos Print in 2014 and has proved continually to be a valuable member of the team. He joined Pixos with experience in hotels and non-profit organizations, bringing a unique perspective to our team. Brandon's evolving knowledge base allows him to be an integral part of our bindery department; whether he's binding books, laminating pages, or preparing deliveries, his flexibility helps maintain a consistent workflow. When he's not contributing to our team, Brandon stays occupied by spending time with his wife and four kids.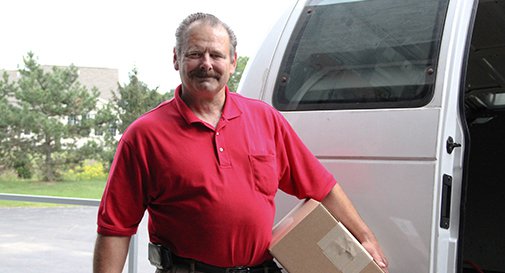 ART WESTON Delivery Driver
Art joined Pixos Print in 2012 and has proved his worth consistently. With more than 20 years of experience in the delivery business, Art has the skillset needed to ensure that our local deliveries reach their correct destination on time. His mechanical knowledge and automotive savvy have kept our delivery van in tip-top shape. Art always has a smile and a joke for our customers, and he is also willing to go the extra mile (literally) to make sure that each package reaches its intended receiver – whether that means calling the customer directly, communicating a discrepancy regarding an address, or braving a winter storm. Even with his passion for getting there on time, Art has maintained a clean record of safety in all of his deliveries. In his spare time, he enjoys woodcarving.