Executive Summary:
Getinge is a leader in providing sterilization and disinfection instruments and other ancillary products to the hospital market. Getinge partnered with Pixos Print to create an easy and efficient printing schedule, website, and inventory management system. The partnership has been successful at improving material management, product support and information accessibility for their sales representatives. By utilizing Pixos Print for their marketing supply chain management, Getinge has enabled their marketing personnel to focus on higher level activities while also minimizing the ramp up time for new marketing employees.

"Pixos Print is truly a strategic partner for our marketing and sales team. They developed and provide the online web to print application for our sales and service team. They consistently support field calls regarding the site as well as manage any material and site updates. We know that we can count on Pixos Print to provide the highest level of service and quality.
We always feel like we are a top priority and knowing that we have a partner like Pixos Print to rely on makes our lives much easier."
— Nicholas J. Mezza, Manager, Marketing Communications,
Surgical Workflows - USA
---

Challenges:
In the past, materials were ordered in larger quantities of 2,500 or 5,000 and stored in a large basement. This process made it difficult to manage or utilize the significant amount of inventory, further causing obsolescence issues. The entire process was managed manually. The time from order to shipment and replacement of materials was less than ideal.

How Pixos Print Helped:
Pixos Print developed and launched an online portal in August, 2008. The Pixos Print solution utilized print on demand, just in time production and inventory management. This minimized the excess use of materials during content and corporate brand development changes. Pixos Print brought the entire Getinge inventory to their facility to manage, organize, and count. Getinge now has a leaner, more accurate inventory system (over 350 products held in inventory). Pixos Print uses digital printing to create brochures, product specs, banners, sales sheets, promotional items, labels, stationary items, and corporate business cards for Getinge, providing consistent brand delivery across all materials. Reps now have more relevant and updated inventory information, because the management of print products is much more efficient.
In addition, the sales reps have a better visibility of what's available to them because the website products are effectively organized. Instead of reps trying to print on their own, Pixos Print holds over 195 products that can be printed on demand on an as-needed basis.
Pixos Print also set up the site to notify select Getinge Marketing employees when an item in their inventory has hit the threshold amount. These items are then printed on demand to keep the inventory process running smoothly and with no delay. Pixos Print makes these reprints available in two to three days while another company may require up to two weeks.
Finally, the inventory costs for Getinge were reduced by eliminating the unnecessary inventory. The solution also improved cash flow by only producing materials that were actually needed in a specific quarter or year.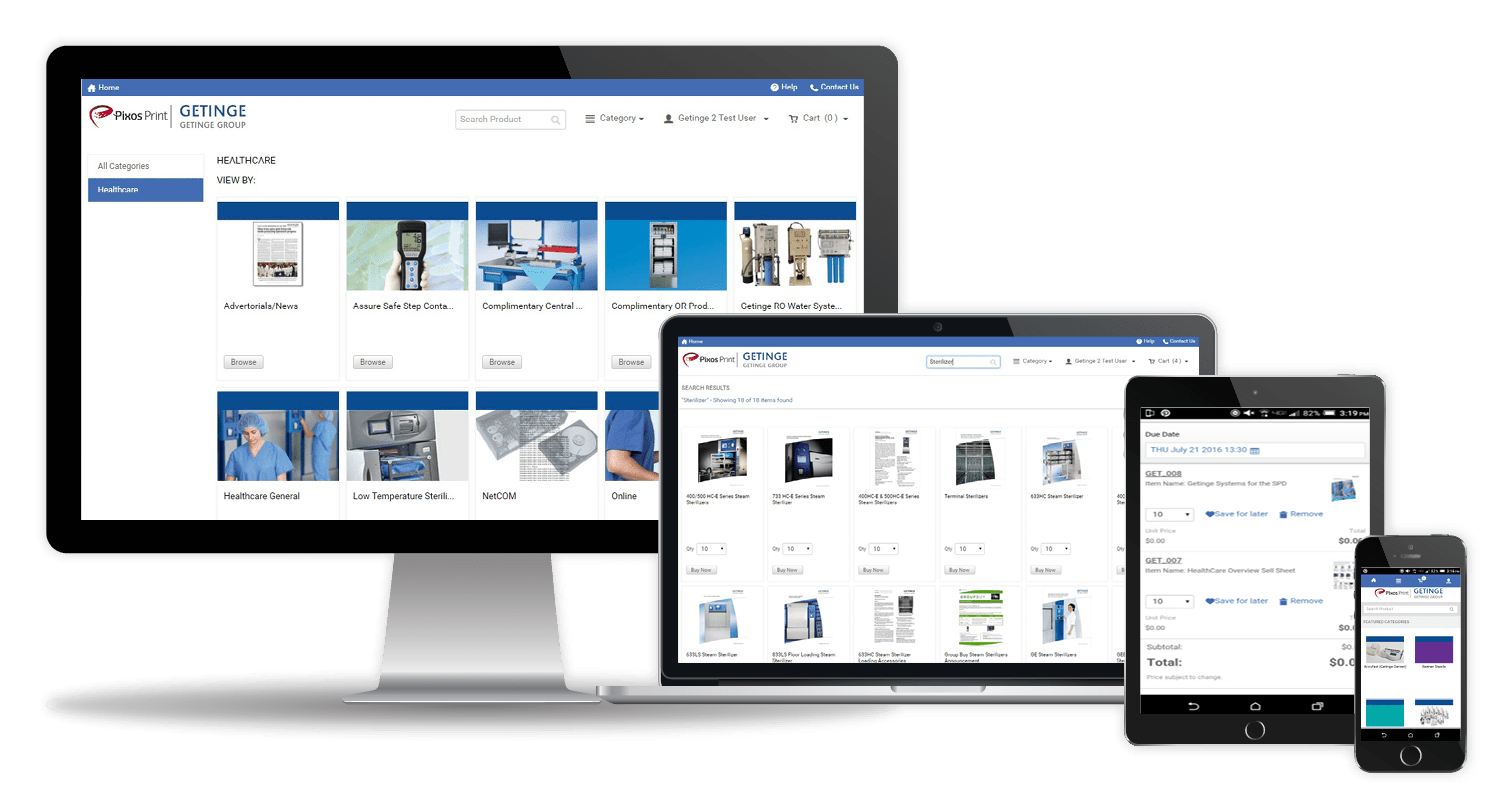 ---

Results:
Pixos Print continues to fulfill orders for Getinge. They constantly update the Getinge website with revised marketing materials and eliminate old inventory. Pixos Print recently switched Getinge to a better platform to improve efficiency after their three global corporate brand changes, and enhanced the user experience with a mobile version of the site. Sales representatives now have easy access to up-to-date materials, and marketing personnel can focus on higher-level, revenue-generating activities.