Executive Summary:
CaterTrax is an innovative catering company that prides itself on integrity and hospitality. The firm was interested in enhancing the office décor at their headquarters location and wanted to integrate key corporate messaging into the graphic solutions. It is critical for CaterTrax to make certain that everyone in the company knows and integrates the firm's values and mission into everything they do, so they turned to Pixos Print to help deliver their message.

"With Pixos Print we know we will get an optimal solution for our marketing needs due to their creativity and consultative approach. They are flexible to work with and understand how to support our marketing team. I always know they will deliver projects on time (even with tight deadlines) and exceed my expectations!"
— Kim Hoffman, VP Marketing
---

Challenges:
CaterTrax wanted to create interior office signage that was high impact and on brand to elevate the look and feel of the space. In addition, their goal was to reinforce the values and mission of the organization. They were looking for a creative way to design and execute these office signs in an impactful manner.
There were some specific challenges for the project.
The office layout did not easily lend itself to standard large format solutions, so all elements had to be a custom design and execution. For example, since their office has many cubicles, they needed the custom signage to be high enough so employees could see them over their cubicle wall in one part of the office and graphics had to be built for an angular hallway in another.
CaterTrax wanted to be able to remove the wall graphics without any damage to the wall.
The project was time-sensitive and needed to be executed on a tight timeline for a critical company event.

Solutions: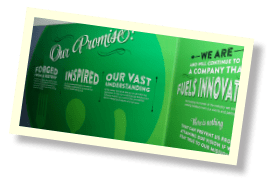 Pixos Print was able to successfully accomplish CaterTrax's goal of an enhanced corporate décor despite the many challenges. First, they developed custom signs and decals that would work well in the various spaces of the office to address the particular needs of that area (tough angles, cubicles…etc.)
Furthermore, Pixos Print utilized repositionable wall graphics that would not damage the walls or leave any residue behind. This substrate also allowed CaterTrax the flexibility to change the location of the graphics in the future if desired.
Finally, in order to meet the tight timeline requirements, the Pixos Print team installed the solution after office hours so that the entire project could be unveiled to the company in the morning as part of a company-wide celebration.
Most importantly, Pixos Print produced a graphic solution that reflected and displayed the values and mission of CaterTrax with tight specifications and on brand.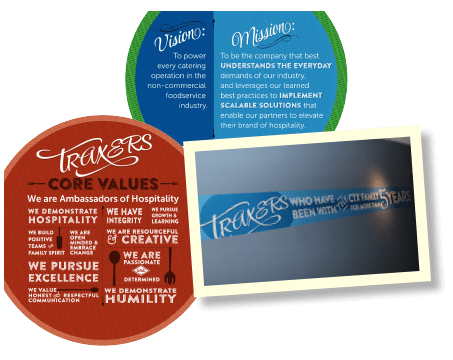 ---

Results, ROI, Future Plans:
As a result of this project, CaterTrax is able to deliver their promises and the vision of their organization to their employees with a high impact, on brand, custom signage and decal solution. Since Pixos Print installed the graphics at night, the entire company was able to experience the new, exciting interior as part of a company-wide celebration. CaterTrax has been named one of the "Top Places to Work in Rochester" by the Democrat and Chronicle. Communicating corporate messaging in a fun, graphically impactful manner is a perfect way to ensure that all employees understand and embrace the very successful culture of the firm.